Mayor and Town Council Members
Mike Schaub, Mayor
Phone: 360-832-3361 ext. 106
Email: [email protected]
Term Expires: 2021-12-31
My roots run deep in Eatonville, I have lived in the Eatonville area for over 43 years. My wife and I are the 3rd generation of our families that have lived, grown up in this community and graduated from Eatonville High School.
We have two grown children raised in this community, which are 4th generation to graduate from Eatonville. The love of this community is what drives me to make choices that benefit the community first.
I have worked in State Government in Accounting and Financial positions since 1994, which includes working in government operations and in accounting and financial management. I earned an Associate of Arts degree from Pierce College while playing basketball and my Bachelor's degree in Business Administration/Finance from Pacific Lutheran University. I also took additional accounting coursework from St. Martin's University.
I was the elected Town Treasurer for six years prior to running for Mayor. I have given volunteer hours to our community as well with 11 years coaching AAU girls basketball and high school girls fall basketball and working with the Save the Roxy Committee to help the local historic theater go digital.
Our small town atmosphere and community are important cornerstones to our town and my goal as Mayor has been to focus on improving the financial health of our Town. We have been looking at what services our Town government provides and find the most efficient and transparent manner to provide them.
Jennie Hannah, Council member Position 1
Phone: 360-832-3361
Email: [email protected]
Term Expires: 2021-12-31
Jennie was appointed to the Town Council on March 21, 2016. Jennie is currently the Chair of the Public Safety and Lodging Tax Advisory Committees and sits on the Public Utilities and Sign Committees.
---
Bob Walter, Council member Position 2
Phone: 253-988-0904
Email: [email protected]
Term Expires: 2021-12-31
Bob is a lifelong Pierce County resident, received a bachelor's degree from Washington State University in 1972, and has lived in the Eatonville area since 1975. He and his wife Dixie were married in 1981.
Bob was Education Director for the Humane Society for Tacoma and Pierce County for 27 years. He has been active in the South Pierce County Historical Society for over 20 years, was chair of the Eatonville Centennial Committee in 2009, a member of the Eatonville Regional Trials Committee, and helped found Animal Care Eatonville. He also served on the county auditor's Animal Services Advisory Panel from 2010 to 2014. He currently serves as the Chair on the Parks and Recreation Committee and sits on the Airport Committee.
Robert Thomas, Council member Position 3
Phone: 360-832-3361
Email: [email protected]
Term Expires: 2019-12-31
Robert(Bob) Thomas has served on the Town Council since January 2016. He works with Eatonville residents, other Council members, the Mayor and the Town staff to manage municipal affairs.
Bob believes that the role of the Town Council is to provide for a dynamic, vibrant community while respecting individual citizen's rights and promoting a culture of mutual respect between neighbors and between citizens and government.
An Eatonville resident since 2004, Bob retired as a chief enlisted manager from the United States Air Force in 2009 and has subsequently worked as a contracted aircraft maintenance technician at Thun Field, a self-employed airframe & power plant mechanic, and as a materials expediter for the United States Army. He volunteers as a part-time aircraft maintenance instructor at Trinity Aviation Academy in Eatonville, is a member of Eatonville's American Legion Post 148, served as a member of the Eatonville School District's Key Communicators group, and currently attends Eatonville Baptist Church.
Bob holds a B.S. in Aviation Maintenance from Embry-Riddle Aeronautical University, graduating Magna Cum Laude and as a member of the Alpha Sigma Lambda National Honor Society. He holds Federal Aviation Administration certificates as both an airframe & power plant mechanic and as a private pilot and has a strong interest in managing Swanson Field as a community asset. Bob and his wife Stephanie were married in 1983 and have two children and three grandchildren. He is currently Chair of the Airport and Public Utilities Committees.
---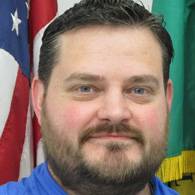 Bill Dunn, Council Member Position 4
Phone: 253-350-4997
Email: [email protected]
Term Expires: 2019-12-31
Bill was appointed to the Town Council on January 9, 2017. He is currently the chair of the Finance and Sign Committees and sits on the Parks & Recreation and Lodging Tax Advisory Committees.
Vacant, Council Member Position 5
Phone: 360-832-3361
Email:
Term Expires: 2019-12-31
Council Position #5 is currently vacant.
---